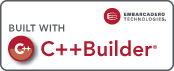 This section of the wiki is dedicated to good applications written in C++Builder. C++Builder is in the same family of compilers as Delphi. C++Builder uses the Visual Component Library (VCL) of Delphi.
Feel free to add applications to this list yourself. However, it is recommended that you first verify that an application is written in C++Builder. Follow the tips on this page to Determine Delphi Application (or C++Builder application).
If there are products listed here that should not be disclosed by the company's request then they should also be removed from the list below.
C++Builder Applications List
[
edit
|
edit source
]
| Date Added | Application | Description | Web Site |
| --- | --- | --- | --- |
| 30th June 2013 | GMDH Shell | Forecasting software that enables users of all types to easily and accurately forecast their data. | Web Site |
| 10th May 2013 | Easy Hotel Management System | Easy to use software to manage small hotel business. Room management, reservation and billing. | Web Site |
| 13th July 2012 | Shared Resource Scheduler | CapPlan is a capacity planner and enables one to schedule employees or other resources. It can display many employees at the same time and provides an unlimited number of schedules. | Web Site |
| 16th March 2012 | Easy Visitor Management System | Simple Visitor Management System to record in and out of visitors to facilities. Capture time and date, recall history of visits. Use barcode scanner for visitor pass. | Web Site |
| 23rd February 2012 | OE Classic | Easy to use replacement for Outlook Express and Windows Live Mail with clean user interface and support for latest email and newsgroups standards | Web Site |
| 26th July 2011 | Easy MyKad Reader Lite 2.0 | Read MyKad (Malaysia Identity Card) Smart Card Data to PC or Laptop using PC/SC Smart Card Reader | Web Site |
| 25th January 2010 | Deep-Sky Planner | Visual and imaging observation planning software for astronomers. Integrated logging, telescope control and smart inter-operation with planetarium software. | Web Site |
| 12th January 2010 | MFS | Business software (quotes, sales, purchasing, catalog content management, CRM, ....). GPL License. Dutch language only. | Web Site |
| 1st December 2009 | SQM Reader Pro | Read, view and store darkness readings from Sky Quality Meter models LE, LU, LR. Includes data graphing and FTP capabilities. Trigger reading at sunset or astronomical twilight. | Web Site |
| 24th November 2009 | Delphi2Cpp | Converter form Delphi to C++ | Web Site |
| 24th November 2009 | TextTransformer | A parser generator IDE with integrated debugger and C++ interpreter. Projects can be either executed inside of the IDE or exported as C++ code. | Web Site |
| 23rd November 2009 | SQM Reader | Read, view and store darkness readings from Sky Quality Meter models LE, LU, LR. | Web Site |
| 2nd April 2009 | Hex Toolbox | Hex editor. Edit files up to 16 terabytes, with fast loading and searching in large files. Built-in numeric base converter, converts EBCDIC. | Web Site |
| 8th February 2009 | UltraISO | Create and edit ISO CD/DVD image file. Support and convert between many CD/DVD image file formats e.g. ISO, BIN, IMG, NRG. | Web Site |
| 9th September 2008 | Sudoku Arena | Sudoku Arena is an ongoing passion to make the best possible Sudoku experience. Features drag-and-drop piece movement, colorful graphics, music and sounds, precise levels of difficulty due to new algorithm and patterned puzzles. Utilizes DirectX. | Web Site |
| 15th June 2008 | AVS Video Tools | Collection of 4 video tools in 1 kit. Convert video, edit, transfer & burn to DVD. Convert video between almost any formats: AVI, WMV, MPEG1/2/4, FLV etc. Transfer video from DV cams, web cams and TV tuners. Cut unwanted parts and TV advertisings. Multilingual support. | Web Site |
| 13th May 2008 | Complete Time Tracking | Easily track, edit, report and export the time that you spend working for your customers or projects right from your computer. If you charge out your time to customers then time tracking allows you to capture and report on all hours that can be billed to the customer. If you work on or manage projects then time tracking provides transparency to the labor involved in completing the project and can show you exactly where the time is spent, by task, by staff member or by date. Available in both Standard and Professional editions to cater for individuals or large organizations. | Web Site |
| 5th March 2008 | DeltaCopy | In general terms, DeltaCopy is an open source, fast incremental backup program. Let's say you have to backup one file that is 500 MB every night. A normal file copy would copy the entire file even if a few bytes have changed. DeltaCopy, on the other hand, would only copy the part of file that has actually been modified. This reduces the data transfer to just a small fraction of 500 MB saving time and network bandwidth. | Web Site |
| 2nd February 2008 | RasterVect | Tansform raster images into vector format. Raster drawing can be imported by scanning original paper drawings. Image source fomat BMP, TIFF etc. Target output vector formats DXF, WMF, EMF, EPS and AI for use in CAD tools. Includes viewing and drawing features. | Web Site |
| 22nd January 2008 | Kaleider | Kaleider emulates various Kaleidoscope, Mirroring, 3D Mirroring and Funneling effects. Effects can be controlled manually to create particular results, or can be viewed automatically in random sequences, optionally with motion, depth and music. | Web Site |
| 22nd January 2008 | Liquib | Liquib turns an image into a virtual fluid, to produce flowing, evolving transformations on its liquified surface. Liquib manipulations can be applied manually, or you can relax and be entertained by Automatic Effects, accompanied by music. | Web Site |
| 22nd October 2007 | IDA Pro | IDA Pro is a Windows or Linux hosted multi-processor disassembler and debugger that offers so many features it is hard to describe them all. | Web Site |
| 14th October 2007 | Magic ISO | CD/DVD image file creating/editing/extracting tool. Can read off CD/DVD to backup image as ISO file on harddisk. open/create/edit/extract CD/DVD ISO files. | Web Site |
| 11th July 2007 | MyUSBOnly | Prevent data theft by blocking all but your trusted USB storage devices. Writes log of all USB connect and disconnect activity. Send email notification when USB storage device becomes connected. | Web Site |
| 29th May 2007 | ASUS PC Probe | Monitoring utility for ASUS motherboards. | Web Site |
| 25th January 2007 | yDecode | Read yEnc and multipart posts directly in Outlook Express, Windows Mail, Mozilla Thunderbird, Netscape News, Agent or any other Usenet news reader. yDecode works in the background, automatically saves attachments to a folder of your choice, has built in proxy with IP filtering. It's very easy to use. Outlook Express/Windows Mail are auto-configured using the wizard. | Web Site |
| 10th January 2007 | UpdatePatrol | Check all your favorite sites for updates - as easy as checking your email. Select which web sites to monitor, and how often you want these web pages searched. The program will work silently in the background, and notify you when the sites or blogs have changed. You can view the updated sites in the built-in browser. The changes are highlighted, allowing you to find them immediately. EASY to use unlike our competitors. | Web Site |
| 4th October 2006 | ImgBurn | ImgBurn carries on from where DVD Decrypter left off! (Well, for the burning part anyway!) ImgBurn can write most types of CD / DVD images and it supports all the latest writers (including booktype / bitsetting on many of the major ones - i.e. BenQ, LiteOn, NEC, Plextor, Sony). You can even use ImgBurn to erase / format your rewritable media! | Web Site |
| 19th August 2006 | Cabriolet for Windows | Fast Dynamic Geometry featuring Lines, Circles, Ellipses, Angle Bisector, Trisector, Perpendicular & Parallel Lines Intersections, Midpoint, Perpendicular Point, Mirror Point, Rotate Point, Vectors, Loci, Measure lengths, areas & angles, Calculations on measurements, Animation, Undo | Web Site |
| 15th August 2006 | Voice Print Call Logger | Call recording software reliably records agent-customer interactions from traditional digital and analog telephones, new Voice Over IP telephones, radios, hoot and holler systems, and turrets for Public Safety, Public Utility, Government, Health, and Financial industries. | Web Site |
| 15th August 2006 | GenHelpPro | Help authoring, can parse source files in C++/C#/Delphi/Pascal and create fully linked help file in several different output formats: WinHelp, HtmlHelp, HtmlHelp2, RichText, Html(Web sites). Also scans comments from source files in several standard formats so that code becomes self documenting. | Web Site |
| 15th August 2006 | IQ Reverse Proxy | Secure your web server with cache, load-balancing, bw limits, authentication and SSL only the best architectural design and highest performance and security for the Windows platform by utilizing multiple CPUs/CPU-cores. | Web Site |
| 23rd May 2006 | Ultimate Paint | Graphics paint editor for image creation, retouching, viewing, and manipulation. Support all popular image formats. flexible brush handling, resizing, rotating, multiple undo/redo, symmetry tool | Web Site |
| 14th May 2006 | AudioGrabber | Rip digital audio from CDs. Can normalize the music, delete silence from the start/end of tracks, and use external encoder libs for MP3 creation. | Web Site |
| 13th May 2006 | mode software | Specialised fashion EPOS (Point Of Sale) and stock control solutions. | Web Site |
| 3th February 2006 | GoldWave | GoldWave is a top rated, professional digital audio editor. | Web Site |
| 3th February 2006 | WinRAR | WinRAR is a powerful archive manager. | Web Site |
| 18th September 2005 | Panda Titanium Antivirus | Detects and eliminates all types of viruses. Also detects spyware. | Web Site |
| 15th September 2005 | BitZipper | Unzip 18 types of compressed and encoded files. Create 8 different types of compressed files. Supports AES 128/256 bit encryption. Browse archives in Windows Explorer style. | Web Site |
| 10th August 2005 | Clone CD | Make backup copies of music CDs or data CDs/DVDs. | Web Site |
| 10th August 2005 | Partition Magic | Organize your hard drive by creating, resizing, copying, and merging disk partitions. Separate and protect your data. Can change partition sizes for drives already in use. Run multiple operating systems safely. | Web Site |
| 10th February 2005 | Easy CD-DA Extractor | Rips Audio CD's and can generate MP3, Ogg Vorbis and many other audio formats. Can handle CD's with read errors, get song title metadata from Internet and convert audio files from a format to another. | Web Site |
Applications built with Borland Delphi, see Good Quality Applications Built With Delphi
Community content is available under
CC-BY-SA
unless otherwise noted.