The Project JEDI - Joint Endeavour of Delphi Innovators - is a open source project consisted of a worldwide community of developers sharing their efforts and resources to improve Delphi. The project consists of several subprojects detailed below. The goals of the projects, as stated on the Official Page are:
to provide Delphi developers with timely access to Application Programming Interfaces(APIs), libraries and other facilities which extend the capability of the Delphi programming environment
to produce consistent, well-tested and fully documented products for the benefit of all Delphi users
to make everything produced by Project JEDI freely available, with source, to anyone wishing to use it
The project is managed by a elected Director, currently Alan C. Moore.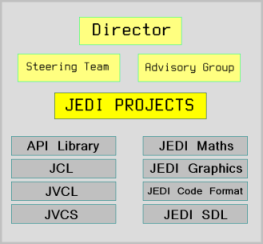 Currently Active Projects
[
]
See also
[
]